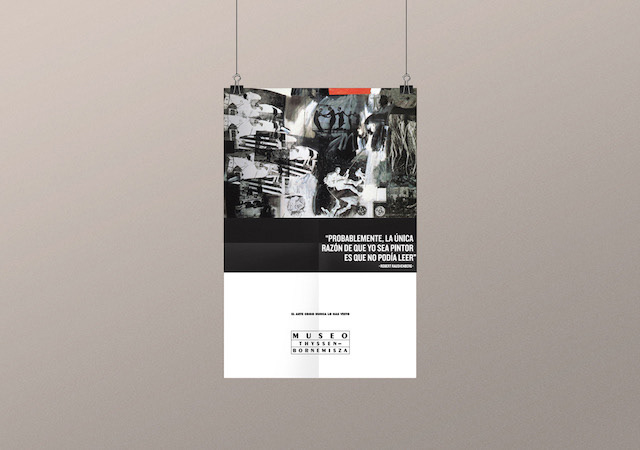 For the extension of this iconic museum, I was asked to create a Print campain for the city of Madrid. The idea was to bring more people to the museum, since the museum had been enlarged. We came up with the slogan 'Más museo' / 'More Museum'. The target audience were people who probably had never set foot in the Thyssen before. Taking six of the masterpieces of the permanent collection, we highlighted quotes from the respective artists that would shed a whole different light on the work.
1. 'In 1920, Miró started listening to music while he painted.'
2. 'When I die, put me in a plastic bag and throw me in the street' Francis Bacon.
3. 'Maybe the only reason I am a painter is I couldn't write' Robert Rauschenberg.
The baseline was 'an Art you've never seen'

Lors de la campagne d'extension de ce Musée madrilène en 2008, il m'a été demandé d'éxécuter une campagne d'affichage Print. L'idée était d'apporter un autre regard sur les oeuvres maîtresses de la collection particulière grâce à une citation totalement décalée de l'artiste.